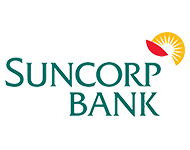 Contact Details:
Shop No: 44
Suncorp Bank
Suncorp Group is led by our Customer Experience and Customer Platform functions which use data, insights and forward looking analytics to inform product innovation and create dynamic and interactive platforms.
Integral to meeting customer needs are three operational business units; Banking & Wealth, Insurance Australia and Insurance New Zealand. Additionally, the Group is supported by corporate shared services including Finance, Technology, Data and Labs, Risk and Legal, People Experience and Transformation.
We are one of Australia's largest general insurers by gross written premium and the second largest general insurer in New Zealand. Life insurance and superannuation products are provided through the Group's brands and via aligned and independent financial advisers. Suncorp Bank is Australia's fifth largest bank servicing 1 million personal, small to medium enterprise and agribusiness customers.
The Group's goal is to create value for our customers though our portfolio of market-leading brands while benefiting from the efficiencies of scale achievable as a large organisation.
Suncorp is a diversified, simplified, low-risk financial services group that delivers both high yield and above system growth. Our organic growth strategy is based exclusively in Australian and New Zealand.